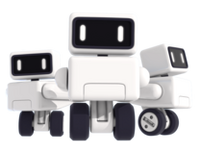 BEEP BOP! to
The Colonists Wiki
BEEP BOP! to the
The Colonists Wiki
The Colonists guide written and maintained by the players.
Please feel free to contribute by creating new articles or expanding on existing ones.
About The Colonists
The Colonists
is a settlement building game created and presented by Codebyfire and Mode7. In this settlement game, the players control self-replicating robots who start a new home on a planet, after they escaped earth. The robots discover new lands, research new technologies and explore the new planet. Play in peace and build a new home or compete with AI colonies for dominion.
Wiki Community
We are currently maintaining 350 pages (72 articles)!
Recent changes | New pages | Missing pages
See how you can help contribute to The Colonists Wiki! Remember to maintain a standard for grammar and punctuation in your contributions, please.
Register an account to keep track of your contributions.